The Traditional Blacksmith
In years gone by the blacksmith was a worthy and indispensable member of the community. His skill was used to mould and fashion metal by subjecting it to the enormous powers of fire. In those days many of the other craftsmen - wheelwrights and carpenters - could not finish their products without the services of the blacksmith. The farmer relied upon him for plough spares, harrow tines and bails & blades for scythes.

Every member of the community sought his services at some time or another to "make this and repair that" and this maybe is still the best way to describe the diversity of today's traditional blacksmith.

We have been involved in blacksmithing for some fifty years, and are still very much steeped in tradition. Today though, blacksmithing has seen many changes, we combine traditional techniques with the modern way so that we can continue to make and repair a wide variety of products. This is one thing that has not changed.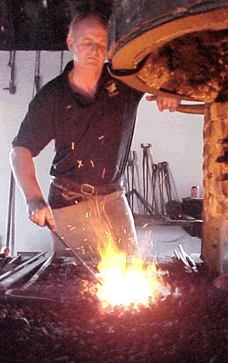 Demostation at Triplow Forge